Corporations strive to ensure business agility and / or to reduce costs. Several strategies can implement these fundamental business needs – and almost all of them require a solid understanding of the application portfolio. The precise and current understanding of the underlying IT systems, how they relate to business functions, and to each other, is a fundamental cornerstone to the success of these initiatives.
Industry standards, such as ITIL or CobiT all define, at one level or another, the need for application management. The ITIL framework addresses the need for managing applications from the initial business need though the complete application lifecycle up to and including potential decommissioning. CobiT calls for active management of IT portfolios to enable business control over the identifying, defining, evaluating, prio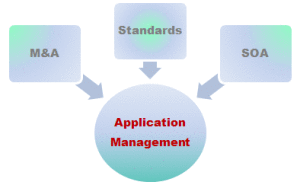 ritizing, initiating and managing IT enabled investments.
Similarly, the planning and implementation of a Service Level Architecture requires a clear map of the application portfolio to understand which applications, and how, could be incorporated into the overall roadmap. Only an exact understanding of the incorporated application components can ensure the effective and correct creation and use of service packages. Furthermore, SOA provisions the IT infrastructure to allow applications to exchange data and participate in business processes. Without a complete and continuous map of these application interactions, such a strategy cannot be effectively implemented.
Mergers and Acquisitions typically involve the decommissioning or combining of duplicate or overlapping IT systems. As well, during acquisitions, the acquired systems' support staffs are often no longer available or would not be available once the acquisition completes. Consequently, a quick and effective method is required to understand, take over and manage these applications. With the introduction of application management practices and tools, the success rate of M&A projects increases while costs are significantly reduced.
Mapador Inc. offers a comprehensive solution that identifies, creates plans for and puts into operation effective Application Management at your site – in context of, and answering to your corporation's initiatives. As with all our solutions, we offer a time-tested combination of expertise, processes and products, to ensure the implementation of change is carried out on time and on budget and it involves all stakeholders.
The centerpiece of our Application Management solution is Mapador APM. Its repository can include all applications, regardless of their platform or language and is built from the current and actual production IT artifacts. Consequently, it represents a true picture of applications, their components and relationships. Its views provide the necessary detail, as well as the required summary information to all levels of IT personnel and to other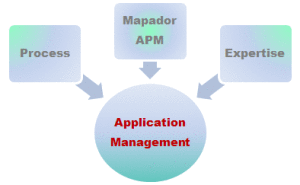 areas of the corporation as required.
Generated statistics offer insight into how applications change and which areas of IT require increased attention, and why. Management can make informed decisions about application maintenance, modernization, quality and standardization needs, as well as allocate resources much more effectively.