We understand that a complete answer must fully consider the real issue at hand and offer a solution that:
Migrates the full application – not just program source code and database objects.
An application is more than just the underlying code. Years of business knowledge / rules have typically been built into the code. The full scope of application re-platforming must allow for the inclusion of accompanying documentation, knowledge base and all other connected objects.
Utilizes a perfect combination of automation and customization opportunities.
While automating all steps in the migration process, a real solution must allow for crucial human intervention when and where it is necessary. Without such 'smarts', the results will inevitably correspond to the reality of 'blind' computing solutions: 'garbage in, garbage out'. Rather than blaming the input, a properly designed migration architecture and toolset must allow for customization points and thus overcome the vast variances likely to be found in applications, even if written in the same language.
Creates a complete new application environment.
Rather than considering a migration project complete when the new application is merely functioning in its new environment, a full migration solution must leave the customer with a well understood and maintainable new application platform. The application must be able to fully take advantage of capabilities of the new platform and must be ready to grow within its new environment.
Offers a completely integrated migration mechanism for all languages that may be part of the application.
Often, the targeted mainframe application utilizes other languages, such as Assembler. Without the equal ability to migrate these components, a solution cannot be called complete.
Handles each component of the migration process with equal quality.
Only a completely integrated process can offer equal quality in each step of the migration project. It is not enough to properly parse code, just as it is not enough to provide the best code generator for the new platform. Each component must be of equal quality and work together as a homogenous solution.
COMPREHENSIVE STRATEGYMapador's Application Migration Strategy consists of three key elements:
Project Control  
Facilitate stakeholder commitment
Ensure perfect fit to customer need
Deliver on time and on budget
Implementing major business and technology change successfully is a formidable undertaking. Examples of projects that failed to deliver to expectations, of blown budgets, of questionable quality, of missed deadlines, of injurious security issues or of projects abandoned outright are trumpeted in the press daily.
Mapador Inc. brings to its application migration projects a planning, control and assessment framework to address the challenge, via a unique application migration methodology that helps stakeholders ensure project success.
The framework was developed using best practices espoused by management of change practitioners, project management practices including the Guide to the Project Management Body of Knowledge (PMBOK) and OPM3 from the Project Management Institute, Prince2 and P3M3 from the UK Office of Government Commerce, software development practices including IBM's Unified Process, DSDM, SEI's CMMI and industry standards from the IT Governance Institute (COBIT and Val IT), ISO/IEC and the IT Infrastructure Library (ITIL). From each of these, relevant components were included in the framework to specifically ensure the success of an Application Migration project.
Technology Control
Deploy correct combination of automated tools and customization opportunities
We believe that only a perfect combination of enabling technology (products and tools), skilled personnel (people) and well-proven methodologies or guidelines (processes) can ensure the successful execution of mission critical initiatives.
Migration projects delivered with substandard results or not delivered on time and budget almost always lack one of these components – or, even more importantly, do not have the right combination of them. Blind automation results in severely reduced quality; out-of-control manual intervention produces significant additional costs; and delivering projects without the aid of time-tested processes almost always results in failure.
To deliver maximum value for minimal cost, the perfect combination of these components must be deployed for each individual project. While some clients may prefer a more direct conversion (i.e. heavily if not completely automated), others may need additional functionality to be added to the new application during migration. As a result, the application migration process must allow for easily controlling and delivering this ideal mix of tools, people and processes.
Solution Control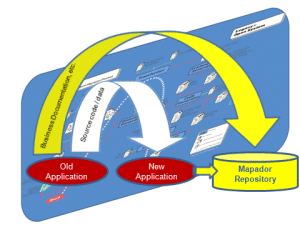 Deliver a complete application migration, not simply a technology transfer
The Mapador Repository can be used throughout the migration project to control the scope of migration, provide project oversight and progress, as well as create a fully functioning new environment under full Application Management control.
By creating a solid and connected inventory and view of the old system, the application would be proven to be 'lean and mean' before any re-platforming effort would commence. In typical implementations, as much as 15-20% of code is found to be unused or for some other reason not worthy for re-platforming (such as outdated functionality). To reduce the costs of creating the new system, it is essential that the starting ('from') view be as compact as possible.
During migration, especially when the project is undertaken in phases, the Mapador Repository can be used to record and report progress.
The new application is automatically parsed into the Mapador Repository. This ensures a complete maintenance environment, full application management functionality, as well as supports the training of new personnel.
The Mapador Repository can then be continuously maintained for the new application, if so desired. Client experience suggests an approximate 25% cost saving of projects when using a Mapador Repository.
Mapador's comprehensive strategy ensures that the right solution is delivered to each customer, on time and on budget.