INSTANT, LIVING DOCUMENTATION
Mapador Inc. brings you 18 years of code analysis experience and technology combined with our ToreroTM process to deliver documentation for your IT application(s) quickly, inexpensively and with little to no effort on your side.
If you have an application with little or no internal support or without proper documentation, we can help. Over many years, we have developed and used a large set of parsers (covering over 110 programming languages) to quickly and automatically identify components and relationships of an application. Using our ToreroTM process, a complete application documentation is delivered in less than 2-3 weeks, using a set of tabular and graphical web pages that can be navigated with an intranet browser, or can be printed.
Mapador's technology can document your application, regardless of technology or language, including support for non-standard or even home-grown components that otherwise have limited or no tool support. It thus creates a comprehensive analysis and knowledge environment that can be used to understand impacts of change easily and effectively.
We now bring this technology directly to you:
Using our well-proven ToreroTM process, our dedicated delivery teams parse and document your application and deliver the results in 2-3 weeks with little or no impact on your own operation.
We charge a flat fee, starting as low as 2 cents per line of code for the service. A minimum fee of $15,000 applies to any assignment.
While we leave behind a knowledge repository and website, possible only as a result of decades of our parsing technology, there are no license fees or software licenses to sign. We simply give you the results.
The documentation can be regenerated at any time against your latest set of production code, for a minimal on-going support cost, if you so choose. This essentially extends the one-time documentation and creates live, correct and up-to-date documentation for the application for the future.
An application is more than just code. The repository can be expanded to include business documentation, infrastructure information or any domain-specific languages.
A New Way of IT Documentation
For more than half a century, original documentation of IT applications was created during the traditional Systems Development Life Cycle (SDLC), as part of the development project. Much of this documentation was created by the same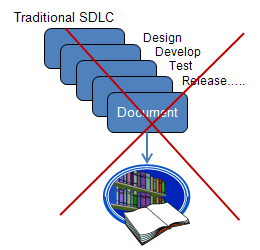 programmers who wrote the application and more often than not, it contains a simple reiteration of programming logic and system components (e.g. 'this program calls the following modules', 'this program writes the following files', etc.). In many instances, business documentation makes up less than 5% of the application documentation and it is often not even connected to the implementing IT objects. This process of system documentation is the direct cause of today's issues.
Over the years, typically less and less effort was spent on keeping this documentation up to date, as the task has gradually become larger and larger. As a result, most IT professionals treat the actual code as the only valid documentation. Consequently, for any analysis task, typical programmers spend hours, days and weeks browsing through application code. Indeed, some programmers almost know the code by heart.
These are the very programmers whose time has become so precious that multi-million dollar projects literally hang in the balance of their availability and significant business decisions are made based on possible resource allocation scenarios.Mapador's Instant Documentation solution elegantly and automatically combines all component, relationship and dependency information, directly extracted from application artifacts (i.e. programs, copybooks, database definitions, file descriptors, etc.) and relates those to available business, architecture or other documents.