"Simplicity is the ultimate sophistication." Leonardo da Vinci
In connection with our Application Migration solutions, we offer specialized services to move your infrastructure to new environments.
Mapador Inc. provides a unique solution for migrating your legacy applications. While automating as much as possible and practical, our solution includes unique 'interaction points' to enable customization, as much or as little as your own circumstances warrant. This allows us to transform an old application into a new without sacrificing quality, while maximizing effectiveness and speed of delivery and minimizing costs. Experience shows that without such a specifically targeted and intelligent use of automation, the resulting applications simply 'function' in their new environments but are hard to maintain and lack any advantages of the new platform.
At the heart of our solution is the principle of connecting the old and new application artifacts at an abstract level where the application is relieved from its implementation-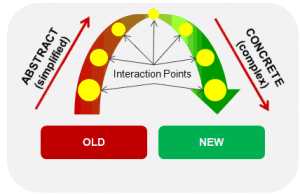 specific nature and is represented in its simplest format. In fact, this is what the application is all about: a pure, atomic depiction of the business process it is automating.To do so, we first dissect the old application into increasingly abstract components, and then reassemble the new application from this level, adding the technology-specific layers back in. At any important level, one can choose to intervene and customize the transformation or let the process proceed in a fully automated manner. Since no two applications are the same, these 'interaction points' provide the required human oversight without sacrificing the benefits of automation.
Our services are tightly coupled with the philosophy described above. Depending on the targeted environment, we deploy experts to maximize the benefits of the chosen new infrastructure.To enable the new application to operate in a Service Oriented Architecture (SOA), for example, the automatic generation of WSDL definitions, SOAP wrappers, ESB artifacts, etc. are tuned by our experts who understand your desired implementation but also bring outside experience to the task. Similarly, our consultants can help you fine-tune your infrastructure migration into Software as a Service (SaaS) or Open Source Software (OSS) environments.
Mapador Inc. provides specific services to complement the physical migration:
Migration Assessment: Define all interfaces and identify application readiness for the specific target (SOA, SaaS, OSS)
Detailed Specifications: Create detailed component transformation requirements, define new architecture environment.
Out technology allows us to deliver these services in an extremely short timeframe. Please contact us for details.