"If opportunity doesn't knock, build a door." Milton Berle
Over the past several years the increasing complexity of projects has amplified pressure on change management practices and project management communities to drive success and cost efficiencies.
Our maturity assessment practice applies an industry best practice model approach to deliver a maturity baseline and provides a direct comparison to industry accepted measurement levels. This helps organizations better understand where they are. Mapador's Actionable Capability Test (ACT) also provides a clear roadmap to more efficiently leverage the organization's foundation and prioritize the work effort to improve change and project performance. The result is improved quality, cost-effectiveness and responsiveness.
Project Pre-CheckTM is a wonderfully powerful practice for stakeholders to wield one project at a time. However, in addition to the project by project focus, its building blocks provide the "door" through which an organization can gain insight into its overall management of change and project management capability and develop action plans to enhance the overall maturity.
The maturity assessment builds on the Project Pre-CheckTM Diagnostic process to assess stakeholder views on organizational management of change and project management maturity using the Decision Framework as the assessment foundation. Also included is a review of the organization's process and practice documentation and deliverables from representative projects.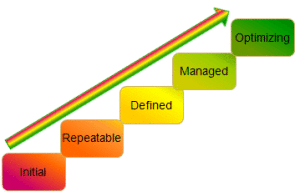 The result is a comprehensive view of an organization's capability to manage change using a maturity level scale based on the one used by the Software Engineering Institute's Capability Maturity Model.The review identifies strengths, weaknesses, gaps and divergent views and allows the organization to focus on the areas that can contribute most to improved overall performance. The maturity assessment can also be used effectively over time to assess the change in an organization's overall management of change and project management capability