Governance is a key component of outsourcing, providing essential control over the full life cycle of the engagement. To maximize benefits and minimize costs, initiating, monitoring or terminating the engagement all require a clear strategy, processes and tools to be in place.

Mapador Inc. provides a comprehensive solution for outsourcing control over each phase of the engagement lifecycle. We also offer each component of our solution separately, targeting the actual phase or need you may have.
Initiation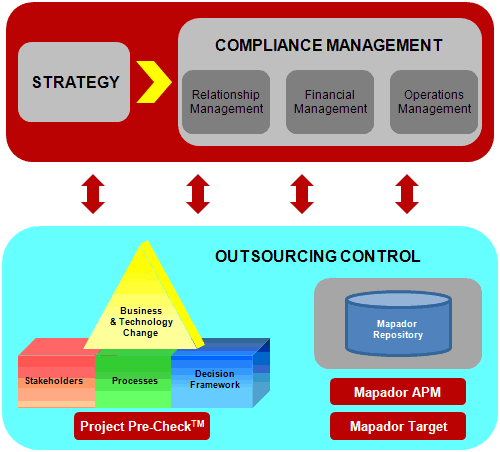 We offer help in three key areas during the initiation phase of an outsourcing project:
Strategy and stakeholder agreement
Scope and complexity definition
Handover
Key business objectives, scope, growth and financial assumptions, operational setup, and change management are some of the many factors stakeholders must agree at project initiation time. Without setting realistic goals clearly, the outsourcing project may not bring the expected return, cost more or outright fail. Project Pre-CheckTM uses powerful, time-tested templates to ensure that key aspects of the outsourcing project are well understood and communicated to all relevant parties. Building such a foundation can be accomplished in a few weeks, with extremely high ROI as it provides the very basis for success.
To successfully create a Request for Proposals and negotiate an effective agreement, a clear understanding of the scope, maintainability and complexity of the applications is essential. Without such knowledge, negotiations would not be based on a thorough understanding and, consequently, the agreement reached could not possibly be maximizing benefits and minimizing costs for the organization. Mapador Snapshot can provide an instant map of the applications to be outsourced, while Mapador APM can be set up to provide continuous control.
We deploy components of our Documentation solution to provide clear, correct and automated documentation of the applications to be outsourced, directly drawn from the latest source code. This not only expedites the transfer but also demonstrates complete control from the very beginning of the engagement, thus setting the outsourcing relationship onto a productive and successful footing. Execution

Once the outsourcing engagement is under way, Mapador Inc. can help you in two key areas, each significantly contributing to the continued success of outsourcing:
Balance stakeholder needs / pursue stakeholder involvement
Retain essential knowledge to continuously remain in effective control
Companies that successfully outsource continuously 'take the pulse' of stakeholders to balance their needs over time. Failing to do so may create situations where one area feels underserviced (and in some cases creating a 'shadow maintenance area' within the organization) or frustrations can build up without addressing the issue at hand. Project PrecheckTM provides a practical and effective way to monitor stakeholder involvement and take appropriate actions as necessary.
Organizations that continue to maintain a repository of their application portfolio can gain significant benefits throughout the outsourcing engagement. While automatically retaining key knowledge within the organization, the repository can also serve as the tool for monitoring performance and the rate of change. It can also provide invaluable information during change management or contract extensions. Without retained knowledge, essential control would invariably and progressively be transferred to the vendor and costs could begin to increase. As time goes by, switching vendors can become practically impossible or extremely costly.
Mapador APM delivers and maintains this repository, ensuring that effective control over your application portfolio remains in-house, without adding any additional burden to the engagement. .
Access to the repository can also be given to the outsourcing vendor, enabling faster and better delivery. Projects using Mapador's repository have reported a 25-30% reduction in costs.
Repatriation
Mapador's technology has been proven to provide essential help when an organization decides to repatriate the application portfolio. Its repository delivers a complete and up to date set of documentation, enabling new staff to quickly become effective and productive. While dramatically reducing the learning curve, it also creates a continuous information base enabling the effective delivery of new projects.