"Don't find fault, find a remedy."
Henry Ford
Based on the comprehensive framework of Project Pre-CheckTM, Mapador Inc. helps your organization to assess both the qualitative and quantitative value of risk associated with the business or technology change targeted. The review identifies, evaluates and categorizes the risks and suggests actions to be taken to mitigate or eliminate them.
Project audits can be used effectively in a variety of circumstances to provide insight into the state of a planned or already in-progress change and to help guide remedial action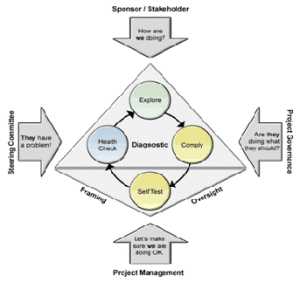 if required. Mapador Inc. provides four basic kinds of audits, which can be tailored to any unique circumstance:
Health Check is typically used when symptoms appear or when problems are evident and an external perspective is required to understand the breadth and depth of the issues and the required remedial action.
Exploration can be applied when stakeholders and/or the project team want assurance that a solid foundation has been built and that the processes and practices being applied are taking the project in the desired direction.
Compliance is used when there is a need to ensure the project is adhering to a pre-defined set of standards or benchmarks.
Self Test is used within a project as an ongoing measure of performance against a pre-established benchmark or target.
Please click here to see more on how to check your project's vital signs.
In all cases, the earlier an audit is done, the greater the contribution to quality, cost-effectiveness and responsiveness. Assessing your project's vital signs is essential to successful delivery. It is a critical step that often becomes a wish in hindsight, regardless of the numerous examples of extremely high return on risk assessment and audit efforts.