"Rowe's Rule: the odds are five to six that the light at the end of the tunnel is the headlight of an oncoming train."
Projects which implement major business and technology change have been, and will continue to be, risky ventures.The business and technology press cite numerous studies that indicate the chances of implementing a major business or technology change successfully are significantly less than 50 %. There are regular revelations in the press about companies' struggles with project cost overruns, damaging schedule delays, disruptive quality problems, injurious security issues or projects abandoned outright.

Our advisory services combine decades of expertise into a common sense, practical delivery of pointed, effective, and actionable consulting help. We may be involved part-time or 7/24, depending on our customer's need. If we can provide the right help via a telephone call, we'll do just that.

In all of our services engagements, we strive to bring capability to your organization in the shortest possible timeframe. While we deliver on the specific requirement at hand, our goal is to also leave our customers with the ability to deliver performance long after we leave. To enable quick and effective help, our experts bring predefined templates, processes and tools to the task, delivering often before the ink dries on our engagement contracts.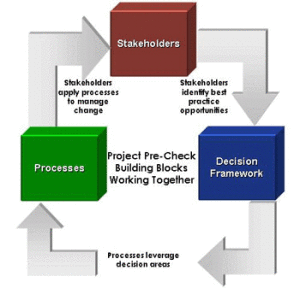 We provide targeted assistance in the following areas:

Our advisory services draw from the comprehensive, tested and practical methodology of Project Pre-CheckTM, leveraging its building blocks: the right stakeholders, defined processes and industry proven best practices in the decision framework. Our advisors arrive with ready templates and guides that allow you to produce actionable results in days.
Our technical services stem from decades of IT expertise. To help your projects, we utilize our own experience of successful project deliveries. We deploy experts specialized in the area you need help in and thus can quickly provide your roadmap to success. Please refer to our Solutions page to see a list of areas we specialize in.Through our long-standing partnerships with other leading vendors and individuals, we are also able to provide consulting services in other areas, as well as a full set of training services.