Today, an increasing demand is placed on IT operations for maintaining and enhancing systems. Applications must perform reliably and fast, and must incorporate new business requirements in a timely manner to keep the competitive edge they were designed to provide.Mapador Inc. brings a comprehensive solution to application maintenance needs, targeting either a single or multiple applications. Our solution will help you run your business, confident that critical application support and maintenance will meet your expectations. You'll be able to maintain high systems performance while meeting maintenance demands cost effectively.Our application maintenance solutions can help whether maintenance is carried out in-house or under a co-sourcing or outsourcing agreement – either with us or with another vendor.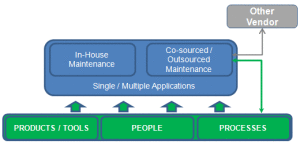 Our technology covers all platforms and languages, thus eliminating the need to deploy different and often incompatible tools to understand, manage and enhance the complete application portfolio. Automatically exposing relationships not just within but across all applications reduces costs and increases productivity throughout the IT organization. Resources can also be better allocated, avoiding costly bottlenecks both within and between IT projects. And of course, without Mapador's technology, applications written in non-standard or custom languages could only be maintained manually.We understand, however, that a complete solution requires more than simply deploying technology. As with all our other solutions, we ensure that the correct mix of products and tools, skilled personnel and processes are applied to each of our application maintenance engagements.
TARGETED MAINTENANCE SOLUTIONSMapador Inc. offers specialized solutions to carry out application maintenance projects that otherwise often would be executed using partially or fully manual methods:
Documentation: establish control over documentation; automatically generate and maintain system documentation
Impact Analysis: understand the impact of change, whether it is a single programming change or a portfolio level transformation (e.g. decommissioning of an application).
Mass Change: assess, analyze, manage and carry out portfolio-wide changes to programs and / or data
CO-SOURCING OR OUTSOURCINGWhile ensuring a successful transition of all or some of your application maintenance activities, Mapador Inc. can help you create the foundation for a long-lasting, cost-effective alternative to in-house application maintenance. We apply our three-pronged approached of products / people / processes to all of our own engagements but we can also help customers who are planning to outsource maintenance to another vendor.When initiating an outsourcing project, Mapador Snapshot allows you to gain a full and automated understanding of your application portfolio and thus negotiate a much better engagement with confidence. Keeping the repository up to date throughout the engagement with Mapador APM, you can keep the right level of knowledge in-house, as well as have effective and continuous control over the engagement. Most importantly, having a continuously refreshed repository leaves you in full control, should you decide to repatriate application maintenance or change vendors.
 MAPADOR APPLICATION MAINTENANCE PROJECTSIn our own Application Maintenance co-sourcing or outsourcing engagements, we follow a strict methodology to provide quality application maintenance solutions to our clients.Products and Tools 
State of the art, workstation based maintenance environment
No / minimum downtime
Saved hardware capacity / cycles
No extra license cost to client
Readily scalable
Factory Style processing is enabled by the combination of best-of-breed, off the shelf and Mapador developed software tools.
Quicker turnaround
Increased quality, consistency
Predictable timelines, outcomes, costs
People
Dedicated, scalable client team
Minimum startup time, increased productivity
Cost effective optimum resource utilization
Average resource experience 5-10 years
Deployed resource skill level always matched to task at hand
Efficient Resource Utilization
Client/Value Driven Staff
Value Add
Internal Mapador support structure
Save scarce client resource / experience
Knowledge transfer / mentoring / in the job training in co-sourced environment
Process and Management:
Engagement
Assessment
Pilot
Service Level Agreement
Transition
Transfer
Execution (specific for different types of maintenance requests)
Written, documented work flow
Repeatable process deploying best practices; standard task lists
Well-defined, template driven deliverables
Established change control, version control and promotion procedures
Built-in testing / QA procedures
Formal procedures for technical documentation
Formal procedures for business knowledge documentation
Management
Disciplined planning approach: template driven project plans (based on standard task list)
o    On time, on-budget delivery
o    Optimum resource utilization
Metrics driven estimating approach
o    Consistent and predictable outcome
o    Comparison between projects, historical info
Client-focused communication protocol
o    Engagement Manager – Central point of contact
o    Better work prioritization, cross-departmental communication
o    Progress reporting
o    Enhanced control and productivity of the maintenance function
o    Standard management reports across platforms and projects
o    Consistency leads to better understanding, meaningful comparisons