"If you don't know where you are going, you will wind up somewhere else.", Yogi Berra
Knowing where your organization is going and how it's going to get there are prerequisites for ensuring your project investments yield expected returns.
Our Strategy Planning service helps clients shape appropriate targets and the means to achieve them. The exercise is fast and effective, relying on the Project Pre-CheckTM fundamentals of active stakeholder involvement, a defined and repeatable process and the Decision Framework to provide the breadth and depth needed for a meaningful exploration and determination of organizational strategies.Unfortunately, many strategic plans end up in 'ivory-towers' or fail in their implementation, as they lack a real connection to realities of the organization. Our service is delivered using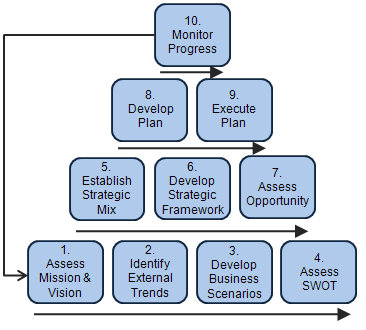 time-tested templates and guidelines that not only incorporate industry best practices but also are vetted by decades of practical experience of managers and executives. We help you create an actionable Strategic Plan that provides maximum benefits but also contains the necessary methods and checks to ensure its successful implementation.
We also provide a checklist for stakeholders to confirm that the organization's mission, vision, goals, strategies and priorities are properly articulated to individual projects. This is essential for guaranteeing value delivery at the project level. Our service ensures that the entire organization knows where it's going and how it's going to get there. We help you make certain that the contribution, relationship and timing of each portfolio, program and project is in place and ready to guide the planned value delivery.
Mapador's Strategy Planning service follows a proven path for creating and implementing your Strategic Plan and brings measurable deliverables and results:
Definitions: Vision, Mission, Values: Define your company's purpose and set realistic goals.
Communication: Ensure all stakeholders are involved and are fully aware of the Strategy and how it relates to them. Communicate the Strategy throughout the organization.
Measurement: Implement means for regular monitoring and adjusting implementation methods as necessary.
Maximum Application: Take full advantage of business opportunities, capitalize on your strengths, overcome your weaknesses and defend against threats to your organization.